When Andy Clement, Kimberly-Clark Professional's chief customer officer, posted a photo on his LinkedIn account and reflected on his first day at the Scott Paper Company 30 years ago, it sparked a conversation online and offline that he wasn't expecting.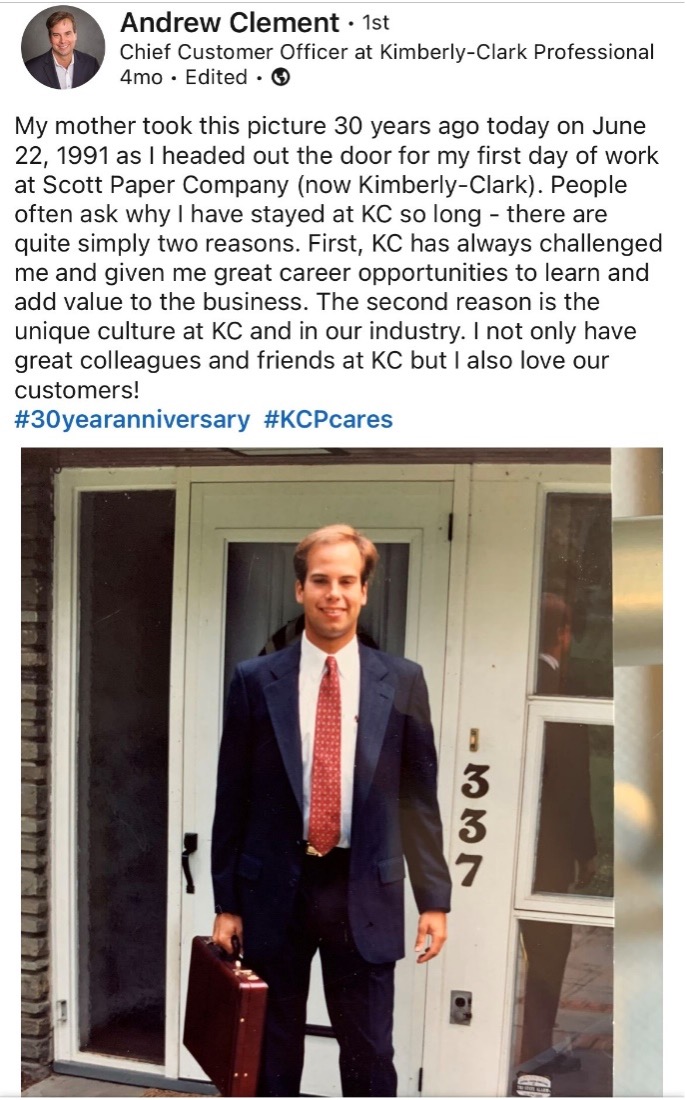 "Different parts of the post resonated with people," Andy said. "Some people wanted to take a jab at my mom for taking the picture or a jab at my 90's suit and briefcase. But more people really commented on the incredible culture of Kimberly-Clark."
Andy had just graduated from Wake Forest University and started a job as an associate marketing manager at the company's headquarters in Philadelphia, which allowed him to live with his family and kick off his career. Scott Paper Company merged with Kimberly-Clark in 1995, and Andy then became part of the Kimberly-Clark team.
Since 1991, he has held at least 18 roles, including marketing, sales, research and engineering, supply chain general management, corporate strategy, and now global sales for Kimberly-Clark Professional – a role he's held for more than eight years. It's Kimberly-Clark's culture that has kept him around for his entire career.
"I always had development opportunities to be able to move to other functions or move up through the ranks. The company supported me with mentors, education, and training, and throughout the years, I just fell in love with Kimberly-Clark. We're collaborative, driven, caring and supportive."
When asked about his best day at Kimberly-Clark, he said he loves the national sales meetings and awards nights for Kimberly-Clark Professional, but he misses those events as a result of the pandemic.
"At the award ceremonies, I often help emcee, but I also get to see all of the team members win awards and come up to the stage. I love seeing the excitement, happiness and tears for those who won awards."
To Andy's surprise, his LinkedIn post went viral with more than 200,000 views and comments from hundreds of people, including many he doesn't even know. Many of them said his longevity with Kimberly-Clark says a lot about the company, and he agrees.
"Culture is really what drives people to stay at a company."